'Bring the Funny' Review: Non-Political Humor Gets An Opportunity To Shine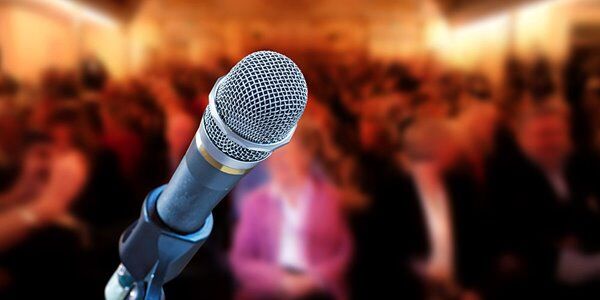 By John Hanlon
In this current political climate, many comedians rely on the latest headlines coming out of Washington D.C. for their material. From Late Night with Stephen Colbert to Jimmy Kimmel Live, there are plenty of shows that take on the day's breaking news. If you're looking for a hot take on the latest events in the White House, there are plenty of options to choose from.
The new show Bring the Funny fortunately doesn't rely on the latest news for its laughs. Instead, the competition series relies on stand-up comedians who bring their disparate personalities and their own unique perspectives to the stage. Each of them is looking to win the grand prize of 250,000 dollars.
Like fellow competition programs American Idol and The Voice, the program has a traditional set-up. Host Amanda Seales announces the performances and the comedians — or comedic groups — often arrive with a brief pre-taped introduction. Like in a comedy club, the audience is seated around small intimate tables facing the stage.
After each individual act, a three judge panel critiques their performances. At the end of these early episodes (only two have aired so far), the judges announce which 6 — of the 10 performers — are moving on to the next round.
The acts include an eclectic group of individuals and a variety of comedy bits. There's a comedian who operates like a robot and another one who relies on a puppet to tell his jokes. There are musical comedians who play instruments and tell their jokes through lyrics. There are sketch groups and there are also several stand-up comedians, who simply rely on good material to get a few laughs.
Although there are plenty of shows that focus on aspiring musicians (American Idol and The Voice, to name a few), there are fewer programs that highlight comedians so this show is a welcome and fresh addition to the primetime schedule. Last Comic Standing, which also aired on NBC, previously found success in this specific niche, before ending its run in 2015.
Jeff Foxworthy, Kenan Thompson and Chrissy Teigen compose the judges' panel on Bring the Funny. Thompson, the Emmy-nominated comedian from Saturday Night Live, and the redneck-loving Foxworthy are solid choices with Foxworthy providing the best insight. Their reviews are generally positive with a few suggestions mixed in. They both genuinely know how difficult it is to go on stage to perform and they note that several times, bringing an empathy to their critiques.
Teigen though feels like an odd fit on the panel. The show introduces her as a social media superstar but she doesn't use that expertise on the show. Since she's well-known for her social media, it feels like a missed opportunity not to let her talk about how comedians can and should use social media to build up an online audience. Oftentimes, Teigen simply relies on the other judges to put the performances in perspective.
As with all competition series, there are a few great acts that stand out and a lot of mediocre ones. Even if a comedian is lackluster though, these contestants often find a way to elicit a laugh or two. While a lot of comedy shows are focused on political humor, it's nice to see young comedians trying out fresh material in front of a live audience. The show's set feels like the interior of a comedy club looking for new talents and this show provides that forum. The performers just have to bring the funny and fortunately, they oftentimes do.
Bring the Funny airs Tuesday nights on NBC.