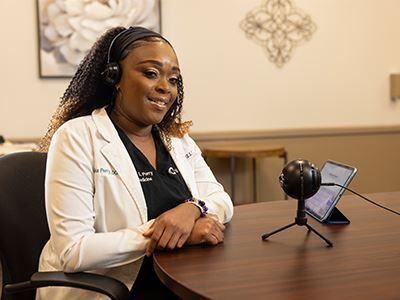 Two Docs in a Pod focuses on health and wellness for everyone. Co-hosts Dr. Audrey Baria, Dr. Tamika Perry, veteran broadcaster Ron Aaron and featured guests share ways to get and stay healthy—in both body and mind.
---
Meet Dr. Tamika Perry
Dr. Tamika Perry has been part of Optum since 2014. She transferred to WellMed in 2018. She is currently a provider at WellMed at Redbird Square in Dallas. Dr. Perry is board certified in family medicine and has been in practice for 15 years.
Her main inspiration has been her father. He has been a strong advocate of her going to school, getting an education and doing right for herself. Another inspiration is Dr. Ronald Tanner, a residency preceptor who mentored Dr. Perry. Dr. Tanner shared the following wisdom with Dr. Perry that has stayed with her: "Listen to your patients well. If you listen to them, they'll tell you what's wrong and they'll tell you what to do. You just have to apply your medical knowledge."
Dr. Perry was raised in a military family and, as a result, grew up in many different areas. She started school in Germany and later graduated from high school and undergrad in Texas. She is most passionate about patient education and disease prevention, which led her into primary care. She is also passionate about educating communities. Dr. Perry strives to collaborate with community establishments like churches, YMCAs and other pillars to help people know that moving forward is the ultimate mission.
Her proudest career accomplishment is her Teacher of the Year award from the American Academy of Family Physicians in 2011 for her work in educating students and residents.
Dr. Perry is passionate about traveling and exploring the world with her 16-year-old daughter. To Dr. Perry, traveling is more than just "lying on a beach." It's immersing in different cultures, perspectives and geography. She's made it her goal to visit all seven continents. She has three to go: Antarctica, Australia and South America.