Trader's Talk Radio Sponsored by Online Trading Academy Houston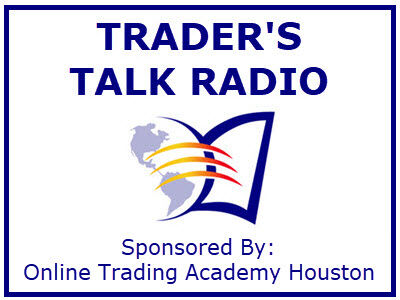 Join Kevin Green and his guests while they have an open conversation on what works and what doesn't in today's Markets. What are the truths and what are the myths.
Whether you are a new Trader, or a seasoned Investor that self-directs their own portfolio, Traders Talk Radio discusses what is required in today's Markets to have a higher confidence at managing those accounts.
Through Trader's Talk Radio, you'll be introduced to the Tools, Rules and Skills required to be proficient in today's Markets.
With methodologies designed to help find Trading and Investing opportunities with lower risk and higher reward potential.
Also, we'll invite you to attend a complementary, 3-hour introductory Investing and Trading Workshop.
Call Now: (281) 820-8905, or go to Our Website to register!
Show Links:
Sponsored By:
---
Kevin Green brings a wealth of first-hand experience to trading and the financial markets. Actively trading since the early1990's, Kevin has been involved within the trading industry for nearly 30-years.
Kevin traded on one of the largest trading floors during the 90's. He was one of the original architects of Online Trading Academy in 1997, where he developed academic content, spoken at multiple trading events, expos, seminars and presentations, written numerous articles and has been quoted in various trader's publications. Kevin has been a special guest on national radio shows and TV news networks. Additionally, he has been brought in as a trading software consultant and has participated in the production and the marketing of multiple offerings.
Recognizing the need for continuous trading and investing education for Online Trading Academy's students and graduates, Kevin and his associate developed and implemented the first live, real-time, interactive, internet-based, audio-and-text continuing education program, the Strategic Trading Center in 1997. A revolutionary concept, technology and "first-of-its-kind" educational support service.
Kevin became Director of Client Research and Development for the Charles Schwab Company in 2000, assisting in the development of client support services and active-trading technologies. While there, he held his Series 7, 63, 65 and 66 licenses.
Kevin stepped away from his Directors responsibilities while dealing with an illness, took a sabbatical, and is now the General Manager for the Online Trading Academy campus in Houston, Texas, where he runs its daily activities and hosts the Trader's Talk Radio show.